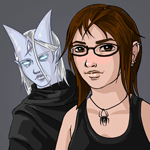 Silkspinner
Silkspinner holds a Bachelors of Fine Arts with an emphasis in sculpture. She has worked for many years in digital media, including an artist position with a leading company that designed artwork for patches and apparel.

Silkspinner is an avid fan of Renaissance Festivals, body armor, World of Warcraft by Blizzard Entertainment®, shamans, Death Knights, undeath in general, the Draenei, roleplay (online and offline), and Legend of the Five Rings by Alderac Entertainment Group. She deeply immerses herself in the lore of anything she is involved with, creating detailed backgrounds for her characters.

Silkspinner currently plays within the Alliance Faction on The Scryers roleplay server in World of Warcraft.

Silkspinner can be contacted by e-mail here, and is always happy to hear any kind of feedback.